Case Studies: How Leading-Edge Industrial Warehouse and Data Center Companies Work With Tenants to Optimize Energy Performance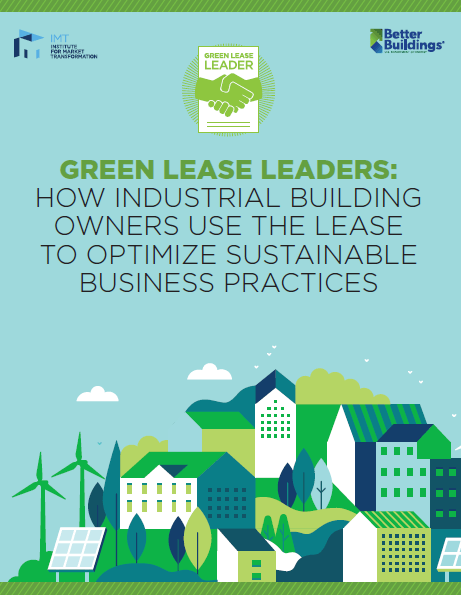 The 2019 cohort of Green Lease Leaders span more than 500 million square feet of space and multiple property types, including industrial warehouses and data centers. In many ways, typical lease transactions in these energy-intensive industrial properties create unique hurdles to owners and tenants investing in greater efficiency and sustainability. In this case study series, Green Lease Leaders: How Industrial Buildings Owners Use the Lease to Optimize Sustainable Business Practices, IMT and the U.S. Department of Energy's (DOE) Better Buildings Alliance highlight Green Lease Leaders Rexford Industrial, Sabey Data Centers, and STAG Industrial for the smart energy strategies each company is deploying in their leasing practices. Their efforts are knocking down pervasive split-incentive barriers and enabling new investments in higher-performing buildings and portfolios that achieve major cost savings, more efficient operations, and easier adoption of renewable energy.
Learn how:
Rexford Industrial uses green leasing to sharpen its focus on sustainability as a business model for its company while increasing the value of properties and bringing environmental and social benefits to its tenants.
Sabey Data Centers ensures its multi-tenant customers, no matter their requirements, can save energy while continuously powering servers and cooling airflow for the optimal performance of complex systems and technologies.
STAG Industrial finances efficiency projects at no up-front cost to its tenants, while using its lease to ensure access to energy performance data so it can track and identify future capital improvement projects across its entire portfolio of buildings.
Categories:
Benefits, Case Study, Lease Negotiations, Renewables, Tenant Fit-Out, Tenant Operations, Industrial, Landlord