About Green Lease Leaders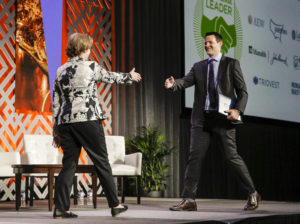 Launched in 2014 by the U.S. Department of Energy's Better Buildings Alliance and the Institute for Market Transformation, Green Lease Leaders is a national program which sets standards for what constitutes a green lease and recognizes cross-sector landlords and tenants for creating and implementing those leases.
The purpose of the program is to create mutually beneficial landlord-tenant relationships that lead to higher-performing buildings and healthier, more sustainable communities. Participants benefit from established guidelines and free support while developing their leases, as well as peer leadership recognition and substantial energy savings when leases have been implemented. Honorees are announced annually at a major real estate conference.
Since launching in 2014, the Green Lease Leaders program has recognized landlords, tenants, and their partners for industry-leading leasing efforts across nearly three billion square feet of building space.
Recognition Criteria
Aligns with EPA's new ENERGY STAR Tenant Space recognition program
Silver, Gold, and Platinum recognition levels

Silver level recognizes the implementation of green lease language in foundation corporate policies and standard lease forms.
Gold level recognizes the execution of green leases.
Platinum level recognition exemplifies achievements by both landlord and tenant to integrate environmental and social priorities into the lease.
Green Lease Resources
Reference guides for tenants and landlords to support participants in identifying and documenting their green leasing best practices and to earn recognition as Green Lease Leaders.
Online lease assessment to allow tenants and landlords to quickly determine opportunities for improvement.
Case studies and fact sheets.
Have feedback? Send it our way.
Privacy Policy
View IMT's digital privacy policy here.