BOMA International: Green Lease Guide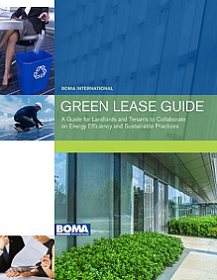 Thanks to a generous grant from YARDI, BOMA International's Green Lease Guide is now free to download. This essential guide on crafting a green lease will help you solve your sustainability challenges and build stronger working relationships with your tenants.
While the environmental and financial benefits of energy-efficient buildings are undisputed, property professionals need a foolproof plan to execute a lease that achieves and maintains sustainable building operations. For more than 30 years, BOMA International has provided the industry with a model lease agreement that is considered the standard for commercial leases. In 2005, BOMA greened its model lease to provide the industry with a step-by-step guide on how to execute a lease with sustainability attributes. This new version updates the guidelines again.
Green Lease Guide: A Guide for Landlords and Tenants to Collaborate on Energy Efficiency and Sustainable Practices is the most recent update to the model green lease. It provides instructions to write green operations and management practices into lease agreements, as well as legal language to facilitate ongoing implementation of sustainable building practices. This green lease guide covers all aspects of a standard lease agreement, such as models for prime lease agreements, guaranty of lease and form subleases.
Categories:
Lease Clause, Lease Negotiations, Commercial Office, Landlord